25.05.2020
Ve čtvrtek 4.6.2020 ve 13:00                  SN4740 High-Density FXS Gateway
01.04.2020
Ve středu 29.4.2020 ve 14:00                  Virtual SmartNode
25.02.2020
V úterý 10.3.2020 ve 14:00                  Enterprise Session Border Controllers

Patton 2823
Patton DMZ bezpečnostní routery zefektivní DMZ implementaci a zabezpečí - firewall konfigurace pro podnikové sítě, aniž by se obětovali QoS pro kritické podnikové dopravy.
Patton DMZ Secure Routers streamline DMZ implementation and secure-firewall configurations for enterprise networks without sacrificing QoS for critical business traffic.
Základní technická charakteristika:
trojitý port DMZ- použijte ke konfiguraci třetí 10Mb Ethernet port jako fyzické a logické DMZ k zabezpečení provozu z lokální sítě
VPN tunely- standard IPSec s AH a ESP zajišťuje maximální ochranu při přechodu nezabezpečenými sítěmi
Silné šifrování- DES, 3DES a AES nabízejí normy založené na šifrovacích algoritmech od 56 do 256 bitů
QoS / CoS Profiles - konfigurovatelné tolerance prolomení, šířka pásma zaručuje znížiní jitteru v toku provozu jak to vyžaduje aplikace.
Konfigurovatelné bezpečnostní profily - vstavěné filtrování podle IP adresy a IP port, ACL a DoS detekce útoku vytváří komplexní bezpečnostní prostředí.
Vylepšené IP služby - DNS resolver a relé, NAT / NAPT, dynamický DNS, DHCP a server, ulehčuje integraci.
SNMP/HTTP Management – snadná správa Pilinku VPN routerů přes jednoduché webové rozhraní
Triple-Port Power DMZ - Use to configure the 3rd 10 Mb Ethernet port as a physical and logical DMZ to keep traffic off the local network.
VPN Tunnels — Standard IPSec with AH and ESP ensures maximum protection when traversing unsecured networks.
Strong Encryption — DES, 3DES, and AES offer standards based encryption algorithms from 56 to 256 bits.
QoS/CoS Profiles - Configurable burst tolerance, bandwidth guarantees plus reduce per flow traffic jitter as required by the application.
Configurable Security Profiles - Built-in IP address and IP port filtering, ACLs and DoS attack detection creates a comprehensive security environment.
Enhanced IP Services - DNS resolver and relay, NAT/NAPT, dynamic DNS, and DHCP server, eases integration.
SNMP/HTTP Management - Easily manage the IPLink VPN Routers via a simple web browser interface.

Schéma zapojení do sítě: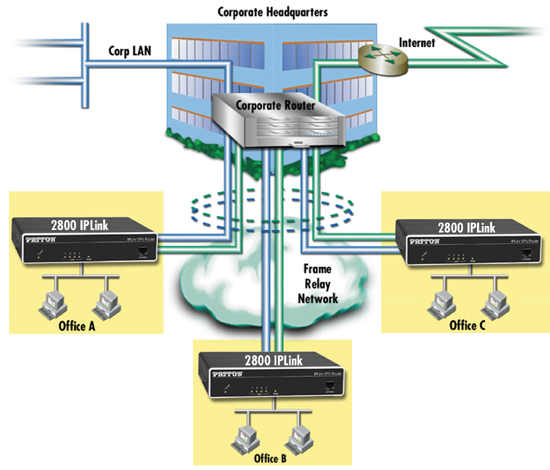 2823 - datasheet (1587kB)